Found these letters at Anthropologie, but seriously. $98 a letter. Love them and wanted to give them as a gift to a friend, but $400 for a little gift is all of a sudden no little gift.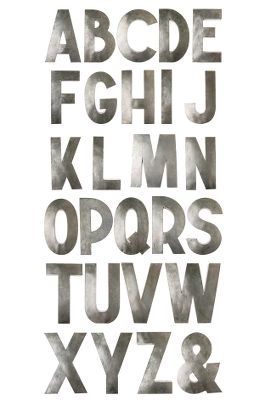 You guess right. We hack.
Here is how this week's project kicked off:
1) 4 letters (I used "B", "A", "B", and "Y" to spell Baby -- you can do this with any letters ($2.49/letter at Hobby Lobby)
2) Gold Krylon Spray Paint (I used the "shortcuts" line of mini canisters - only $2.99/can at Hobby Lobby)
Yep, just two ingredients.
The Gameplan:
I cut open a brown paper bag to give us a base for spray-painting the letters. Of course, always use a well-ventilated area for spray-painting.
I applied a total of 6 coats of spray paint to the letters, allowing them to dry for about 30 minutes between coats. Using the metallic spray paint, the more coats I applied, the more it was "uneven" in places, allowing for the vintage look I was trying to achieve.
Final product after 6 coats of paint
My final product at the hospital, complete with a chalkboard-painted tray and goodies for visitors of Baby Lena.
I loved how these turned out so much, I am planning to create the letters "AGAPE" (the Greek word for Love) to go above our bed. Photos of that project to come!!